Gibson's offers a variety of skating party options to accommodate your school, church or non-for-profit group's needs.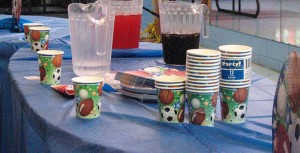 Parties can be structured as a fundraiser for your group or as a Family Fun Night (great for attendance or good grade awards) Private parties are available if you are not wanting to do a fundraiser, parties open to the public are a great fundraiser for schools & groups.
We do NOT offer private Birthday parties. 
Skating parties are 2 hours long & can be scheduled on Monday, Tuesday or Thursday evenings. Times vary based on the needs of your group, the 2 hour block is between 5-9, you tell us the time that works best for your group.  Sunday evenings are available (November through April) from 5-7 or 5:30-7:30.   ($2.50 skate rental if they don't have their own skates) & locker checking is 25 cents (locker checking is required) in addition to the skating, we offer an indoor miniature golf course, 9 holes for $1.00 & 18 holes for$2.00 and a game room.
No food or drink may be brought in, we have a concession stand that offers drinks & snacks.
Your group determines the admission charge (if your party is a fundraiser) & we collect it for you at the door, your group will keep all admissions less the $125.00 rental fee. (Please have someone at the party who can collect the money at the end of the party or pay the difference if you do not have enough attendees.)
If your group books more than 1 party the following discounts would apply:
Book 4 parties & rent is $125/party, the fourth party is free. (4 parties for $375)
Book 8 parties & rent is $100/party, 2 parties are free. (8 parties for $600)
If you book a block of parties & you cancel 1 or more parties, the discounted rate will no longer apply & the full $125 rent would apply per party.
Please contact the rink at (765) 282-2971 after 6:30pm Monday through Friday, if you have questions, or would like to book a party. For non-school-related parties, the deposit is required to secure the date. Please drop off your deposit or send it to:
Gibson Arena
2610 S Mock Ave
Muncie, IN 47302
*tax ID is required