Gibson's offers a variety of skating party options to accommodate your school, church or non-for-profit group's needs.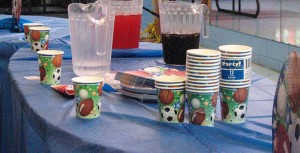 Private Fundraiser Parties are available on Tuesday & Thursday, please contact the Arena for pricing/options and available dates.
Birthday Parties:
Saturday 2-4 September-May $125
Saturday 7-10 September-May $150
Sunday 2-4:30 November-Spring $125
All parties include admission/skate rental/ mini golf for up to 15 skaters & 2 pitchers of pop.
If you are expecting a large number of guests ask us about reserving two spots and having the Disco or the Fireplace exclusively for your party guests only.
Additional Skaters $7/person
All children (18 & younger) count towards the 15, infants excluded
Guests with their own skates also count towards the 15 person count
Non skating adults are not charged.
Extra pitchers of pop $4/pitcher
$50 non-refundable deposit required to reserve spot, goes towards final balance due
$75 non -refundable deposit required for the Saturday 7-10 party
(may re-schedule within one month of original date and deposit will transfer)
All parties are welcome to bring cake & ice cream, NO other food or drink may be carried in.
Candles are permitted for your cake.
Decorations are welcome except for glitter, confetti and pinata's.
You will need to provide your own plates, cups, napkins and plasticware.
(These items may be purchased from us for additional charge)
You may arrive at 1:45 to decorate for your party, if you do not arrive on time, your party does not extend.